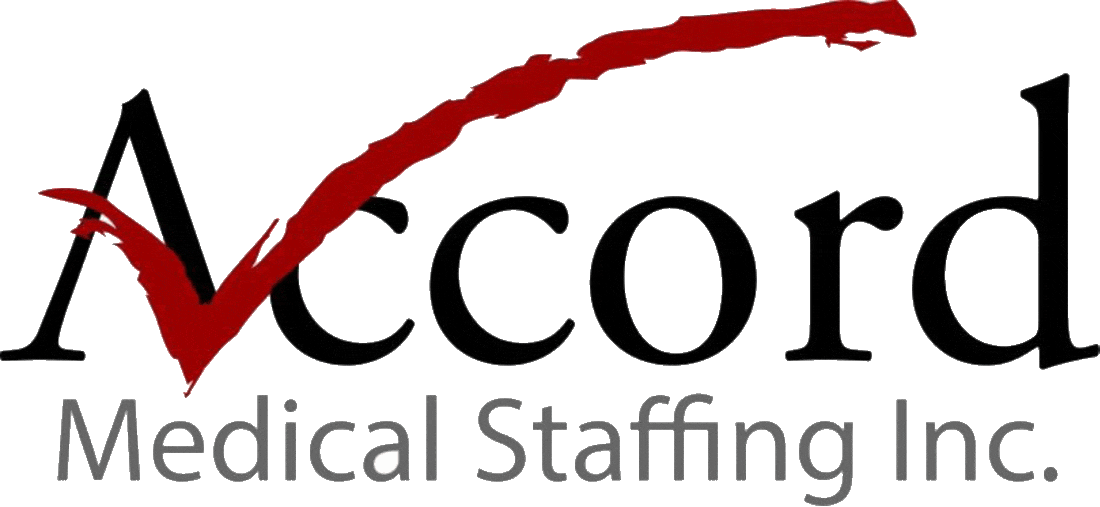 ACCORD MEDICAL STAFFING, LLC PRIVACY POLICY
SECTION I: INTRODUCTION
Accord Medical Staffing, LLC ("Accord Medical") provides online tools to assist companies, potential investors, and others who are interested or involved in the acquisition, development, leasing, management, and financing of real estate and real estate projects, private equity offerings, and private credit transactions/notes.
Accord Medical respects your privacy and is committed to protecting it through our compliance with this policy. This privacy policy (our "Privacy Policy") describes our data practices regarding Personal Information (defined below). This Privacy Policy applies to Personal Information collected through our website, located at www.Accordmedstaffing.com (the "Site"). This Privacy Policy does not apply to any Personal Information collected by third party websites not operated by Accord Medical, or information collected by Accord Medical offline or through any other means.
Please read this Privacy Policy closely to understand our policies and practices regarding your Personal Information and how we will treat it. If you do not agree with our Privacy Policy, your choice is not to use our Site.
By accessing the Site and/or using our Services, you are consenting to our use of your Personal Information in accordance with this Privacy Policy. Further, your access to and use of the Services is subject to the Accord Medical Terms of Use.
SECTION II: INFORMATION ACCORD MEDICAL COLLECTS ABOUT YOU
Personal Information You Provide
We use the term "Personal Information" to mean any information that could be used to identify you, including your name, address, email address, birth date, financial information, cell or land-line phone number, or any combination of information that could be used to identify you.
What Personal Information we collect from you depends on what Services you choose to use and how you interact with the Site:
Site Visitors. We have structured our Site so that, as a casual site visitor, you may come to our Site and review selected information about our Services without registering. However, if you wish to become an Investor, then we require you to provide certain additional Personal Information.
Investors. If you choose to access our Services as an Investor, we require that you complete a registration form. An Investor is an individual who is over the age of 18 and has completed the registration process on the Site. Our registration forms will specify the information which you must provide in order to enjoy the particular features to which you wish to subscribe, which may include such items as (i) name; (ii) email address; (iii) phone number(s); (iv) mailing address; (v) social security number (for IRS tax reporting purposes); (vi) bank account number; and (vii) birth date. Our registration forms may additionally request information that you may, at your option, choose to provide or withhold. To the extent this additional information constitutes Personal Information, we will treat it in the manner specified in this Privacy Policy.
We may require each Investor to provide information designed to verify his or her identity. This information may include (i) information from a successfully completed electronic check transaction, (ii) a credit report, or (iii) other similar information designed to authenticate and confirm your identity or to otherwise comply with applicable law.
We also require each Investor to provide certain financial information. For example, we require that each Investor also provide Internal Revenue Service Form W-9 data, which includes your Social Security Number (or Taxpayer Identification Number, where applicable). We also require that Investors provide us with certain account and other payment information, such as information needed to make payments via ACH, wire, or electronic checks. Our registration process for Investors provides additional details on the types of payment information needed.
Automatically-Collected Information
Even if you do not register for an account on the Site, we may collect certain information automatically. For example, we may automatically receive and record in our system the following information:
• your internet protocol (IP) address and location;
• referrer URL;
• the type and version of your web browser;
• device identifiers including mobile advertising identifiers; and
• your operating system
We also record page views and other general statistical and tracking information. We use this data to help us administer and operate our Site, to better understand how our users access and interact with the Site, and for security and monitoring purposes.
We may send email messages that use a "click-through URL" linked to content on our Site. When you click one of these URLs, you pass through our web server before arriving at the destination web page. We track this click-through data to help determine interest in particular topics and measure the effectiveness of our customer communications. If you prefer not to be tracked, simply do not click text or graphic links in the email. The information we automatically collect assists us to improve our Site and to deliver a better and more personalized service including, but not limited to, enabling us to store information about your preferences, allowing us to customize our Site according to your individualized interests, speed up your searches, and recognize when you return to our Site.
SECTION III: HOW WE USE YOUR PERSONAL INFORMATION
We use your Personal Information for the following business purposes:
• To present our Site and its contents to you
• To process transactions that you have authorized us to make;
• To provide you with information and services that you requested from us;
• To facilitate your activities with respect to our Site;
• To contact you regarding administrative issues, such as questions about your specific request, or otherwise respond to your comments or requests;
• To verify and authenticate your identity, to help us ensure that the individuals who use the Site and Services are who they claim to be;
• To prevent, detect, mitigate, and investigate fraud, security breaches, and potentially prohibited or illegal activities, including, for example, activities prohibited by the Anti-Money Laundering Act;
• To help us operate our Site;
• To deliver notices regarding your account;
• To comply with IRS requirements and for tax reporting purposes;
• To provide you with information, such as notices of investment opportunities via our Site or updates concerning investments that you have participated in;
• To send you information we believe is relevant to you, such as news, bulletins, marketing materials, or other information;
• To enforce this Privacy Policy and our Terms of Use;
• To conduct user surveys and questionnaires; and
• To comply with applicable law; and.
• In any other way, we may describe when you provide the information.
We use aggregated information to analyze the effectiveness of our Site, to improve our Services, and for other similar purposes. In addition, from time to time, we may undertake or commission statistical and other summary analyses of the general behavior and characteristics of users participating in our Services and the characteristics of visitors at our Site, and may share aggregated information with third parties, including advertisers. We may collect aggregated information through features of the software that support our Services, through cookies, and through other means described in this Privacy Policy.
To enable us to better understand the characteristics of our Investors and/or to provide services tailored to your needs, we may combine the Personal Information an Investor provides with certain automatically-collected information that would not otherwise be personally identifiable. If we combine or link any automatically-collected, non-individually identifiable information with your Personal Information, the resulting combination will be treated as Personal Information under this Privacy Policy.
SECTION IV: HOW WE SHARE PERSONAL DATA
We may disclose aggregated information about our users, and information that does not identify any individual, without restriction. We do not disclose your Personal Information to unaffiliated third parties except as provided in this Privacy Policy, as follows:
Service Providers and Contractors. To assist us in running our business and to perform certain services and functions, we may share your Personal Information with third-party providers of hosting, payment processing, transfer agent, email communication and customer support services, analytics, marketing, and advertising service providers and contractors. For Legal Reasons. We may share your Personal Information to the extent we reasonably believe we are required to do so by law or to comply with legal or regulatory requirements, or to protect against fraud, illegal activity, or to otherwise protect Accord Medical against liability. In Connection with a Corporate Transaction. In the event of a transaction or proposed transaction involving the transfer of substantially all of the assets of Accord Medical or one or more of its businesses to another entity, whether an affiliate or a third party, or in connection with a bankruptcy, we may share your Personal Information in the diligence process or to otherwise facilitate the transaction, and with individuals assisting in the transaction or in connection with a bankruptcy. Your Personal Information may also be one of the transferred assets as part of the transaction or bankruptcy. For Safety & Security. We may reveal your Personal Information to third parties, including law enforcement agencies, in order to protect the safety and security of our users or of any third party.
SECTION V: COOKIES, PIXEL TAGS, AND SIMILAR TECHNOLOGIES
A cookie is a small amount of data, often including a unique identifier, which is sent to your browser from a website and stored on your computer's hard drive.
We use both "session" cookies and "persistent" cookies, as follows:
Session cookies: We use session cookies to improve navigation on our Site and to collect aggregate statistical information. A session cookie expires when you close your browser. Because these cookies are strictly necessary to use the Site, you cannot refuse them.
"Persistent" cookies: Persistent cookies are bits of information that are placed on the hard drive of your computer and can remain for extended periods of time. Persistent cookies also enable us to provide enhanced, more personal features (such as showing or hiding notifications), and track and target the interests of our users to enhance the experience on our Site. The types of persistent cookies used on the Site are described in more detail below. You may set your browser so that it does not accept cookies, and you may also use the direct opt-out tools provided by the parties described below. If you do not enable or if you disable cookies, however, you may not be able to access certain personalized features of our Services.
We may also use so-called "pixel tags" – small graphic images (also known as "web beacons" or "single-pixel images") – to tell us what parts of our website have been visited or to measure the effectiveness of marketing campaigns on our Site. In contrast to cookies, which are stored on a user's computer hard drive, pixel tags are embedded invisibly on our Site. Pixel tags inform us whether emails have been opened, to help ensure that our messages are of interest to our users. We may tie the information gathered by pixel tags to our users' Personal Information, in which case it will be subject to the terms of this Privacy Policy.
SECTION VI: FEEDBACK, QUESTIONNAIRES AND SURVEYS.
Our Site allows site visitors and Investors to participate in surveys and questionnaires, which from time to time we may post on the Site. We also encourage our users to provide feedback to us about our Site and our Services. You are free to choose whether you participate in these activities. We may ask that, in addition to providing your responses, you also provide us with your contact information. In these instances, we use any Personal Information you choose to provide to us in connection with these activities for the purposes for which you submit the information.
We aggregate information derived from survey and questionnaire information – with your Personal Information removed – for monitoring or improving the use and appeal of this Site (with no other obligation to you and, specifically, with no obligation to compensate you for these uses). You are not obligated to participate in any of these activities.
SECTION VII: DATA SECURITY
We have put in place commercially-reasonable commercially reasonable security systems intended to prevent unauthorized access to or disclosure of Personal Information, and we take reasonable steps to secure and safeguard this Personal Information against loss, theft, and unauthorized use, disclosure, or modification. The safety and security of your information also depends on you. Where we have given you, or where you have chosen, a password for access to certain parts of our Site, you are responsible for keeping the password confidential. Unfortunately, the transmission of information via the internet, our network, servers, and the databases we operate on our behalf, are not completely secure. Although we do our best to protect your Personal Information, we cannot guarantee the security of your Personal Information transmitted to our Site. Any transmission of Personal Information is at your own risk. With that said, there is no such thing as 100% security of the networks, servers, and databases we operate or that are operated on our behalf. For example, email sent to or from the Site may not be secure. Before submitting any Personal Information via the Site, please be aware of these inherent risks and understand that you do so at your own risk.
SECTION VIII: DATA RETENTION
We keep your Personal Information for as long as reasonably necessary for the purposes described in this Privacy Policy, while we have a legitimate business need to do so in connection with your account, or as required by law (e.g., for tax, legal, accounting or other purposes), whichever is longer.
SECTION IX: YOUR RIGHTS WITH RESPECT TO PERSONAL DATA
In general, you may browse the Site without providing Personal Information. However, if you choose not to provide certain Personal Information through our Site, we may not be able to provide certain services or process certain of your requests. You will not be able to become an Investor or use all of the features and products that we offer through this Site.
Depending on the functionality associated with the Site feature you are using, you may be able to update or delete certain of your Personal Information on the Site. Accordingly, at your request, we will take reasonable steps to remove your Personal Information from our databases. However, please note that:
● we may not be permitted to delete your Personal Information completely, due to federal and/or stateIRS and regulatory reporting requirements, investments on the platform and the rights thereof, and data backups and records of deletions;
● if you request deletion of your Personal Information, you may be unable to use certain features of the Site and any associated Services;
● certain of your Personal Information may remain in our databases following the deletion of your account; and
● we may not be able to remove de-identified, anonymous, or aggregate data from our databases. Any deletion requests may be sent to info@Accordmedstaffing.com.
If you no longer wish to receive marketing emails from us, you can opt out of these communications by clicking on the "unsubscribe" link included in those emails, or by contacting us at info@Accordmedstaffing.com Please understand that you will not be allowed to opt-out of transactional notices or other legal and related notices concerning your relationship to the Site or your account.
SECTION X: CHILDREN'S PRIVACY
Our Site is not directed to children under the age of 18. We do not knowingly seek to collect or maintain Personal Information or other information from children under the age of 18. We will use commercially reasonable efforts to delete any Personal Information or other information later determined to be provided by a child under the age of 18. Use of the Site by children under the age of 18 is not permitted. If you become aware that a minor has provided Personal Information through our Site, please email us at info@Accordmedstaffing.com.
California residents under the age of 16 may have additional rights regarding the collection and sale of their Personal Information. Please see Section XII for more information.
SECTION XI: CHANGES TO THIS PRIVACY POLICY
We reserve the right to alter, modify, update, add to, subtract from or otherwise change this Privacy Policy at any time, which will become effective as of posting on the Site. We encourage you to periodically review this Privacy Policy to stay informed about how we collect, use, and share Personal Information.
SECTION XII: CALIFORNIA PRIVACY RIGHTS DO CALIFORNIA RESIDENTS HAVE SPECIFIC PRIVACY RIGHTS?
California Civil Code Section 1798.83 , creates also known as the "Shine The Light" law, certain rights and choices for citizens of the State of California. This includes the right for users to know permits our users who are California residents to request and obtain from us, once a year and free of charge, information about categories of Personal Information (if any) we disclosed to third parties for direct marketing purposes and the names and addresses of all third parties with which we shared personal information in the immediately preceding calendar year. California users also have the right to request that we delete any of your Personal Information that we collected from you and retained, subject to certain exceptions. If you are a California resident, or are someone legally authorized to act on behalf of a California resident, and would like to make such a request to know or delete related to your Personal Information, please submit your request in writing to us using the contact information provided below. You may only make a request to know twice within a 12-month period.
If you are under 18 years of age, reside in California, and have a registered account with the Services or Site, Websites, you have the right to request removal of unwanted data that you publicly post on the Services or Websites. To request removal of such data, please contact us using the contact information provided below, and include the email address associated with your account and a statement that you reside in California. We will make sure the data is not publicly displayed on the Services or Websites, but please be aware that the data may not be completely or comprehensively removed from our systems.
CHANGES TO OUR PRIVACY POLICY
It is our policy to post any changes we make to our Privacy Policy on this page with a notice that the privacy policy has been updated on the Website home page. If we make material changes to how we treat our users' personal information, we will notify you by e-mail to the primary e-mail address specified in your account and/or through a notice on the Website home page. The date the privacy policy was last revised is identified at the top of the page. You are responsible for ensuring we have an up-to-date active and deliverable e-mail address for you, and for periodically visiting our website and this privacy policy to check for any changes.
CONTACT US
If you have any questions about this Privacy Policy, the practices of our Site or Services, or your dealings with our Site or Services, please contact us at:
You may contact us, for any reason, by email as follows:
info@Accordmedstaffing.com
You may contact us by mail as follows:
ACCORD MEDICAL STAFFING, LLC
7537 Mentor Ave. Suite 311
Mentor Oh 44060